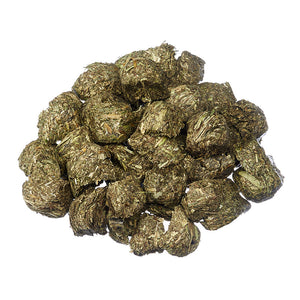 Made with our very best Premium grade Timothy hay, NON-GMO Beet Pulp (no molasses), and specific minerals and amino acids. 

Specifically formulated for horses with Equine Cushing's Disease, Insulin Resistance, and other related conditions where a nutritious diet low in non-structural carbohydrates (ESC plus Starch) is recommended or essential. Recommended for all horses. Can be fed as the sole ration.
Timothy Balance® Cubes are fully NON-GMO.
Nutrients (As Fed): Timothy Balance Cubes
Crude Protein (Min) 8 %
Crude Fibre (Max) 35 %
Crude Fat (Min) 1.8 %
Moisture (Max) 12 %
ADF% 35
NDF% 55
DE Mcal/kg.(Mcal/lb) 1.9 (.86)
TDN 59
Sodium % 0.07
Phosphorus % 0.22
Potassium % 1.44
Sulphur % 0.11
Calcium % 0.5
Magnesium % 0.52
Copper ppm=mg/KG 31
Manganese ppm=KG 110
Zinc ppm=mg/KG 90
Selenium ppm=KG 0.4