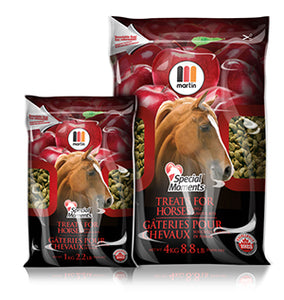 Martin SPECIAL MOMENTS™ Treats for Horses Apple Flavour
A Taste That Horses Love!
Make your Special Moments™ with your horse more rewarding with Martin Special Moments™ Treats for Horses. You will love the convenience of the cubed shape and the resealable package designed to maintain optimum freshness. You may feed your horse 20-25 bits, 4 to 5 times per day as a treat.
INGREDIENTS

Oats Grain, Corn Grain, Wheat Shorts, Alfalfa Meal Dehydrated, Soybean Seeds Heat Processed, Sugarcane Molasses, Soybean Seeds Oil (with antioxidant Reg. #991158), Flaxseeds Ground, Salt, Antioxidant (Reg. #982389), Flavoured Oil (Reg. #981573), Flavour (Reg. #981243).