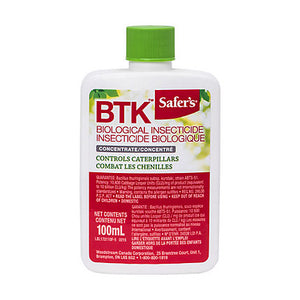 Kills Gypsy Moth Larvae & Caterpillars
Directions: Highly specific to some kinds of caterpillars. Treat caterpillars when they first appear and are actively feeding for best results. This product is most effective when caterpillars are small and young. This product is not effective on adult moths. This is a stomach poison and must be ingested by the caterpillar to be effective. After ingestion of a sufficient product does, feeding stops immediately and death will follow in 2-5 days. Add some water to the sprayer and then add the correct amount of Safer's BTK.
Add 30mL of concentrate to 10L of water. 10L of spray solution will cover approximately 100square meters. Spray all leaf surfaces thoroughly to provide good coverage without runoff. Repeat if required 7-10 days later.