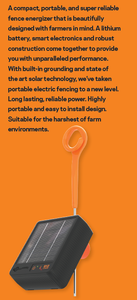 A compact, portable, and super reliable fence energizer that is beautifully designed with farmers in mind. A lithium battery, smart electronics and robust construction come together to provide you with unparalleled performance.
With built-in grounding and state of the art solar technology, we've taken portable  electric fencing to a new level.
Long lasting, reliable power. Highly portable and easy to install design. Suitable for the harshest of farm environments.
Solar Lithium Technology
• Lithium iron phosphate battery, high
efficiency solar panel and smart digital
control provides continuous product
operation in harsh low light conditions, all
covered by a three-year warranty
No earth/ground lead required
• Ground your energizer by mounting to a
Gallagher Ring Top Post or metal rod up to
13mm or ½ inch in diameter
Long-lasting battery performance
• Long life heavy duty Lithium Iron Phosphate
battery keeps power on your fence day
and night
More portable than ever before
• Super compact and easy to install and
move, making it the ideal solution for strip
grazing and improved pasture management
Post mounted for security
and reliability
• Unique post mounting system protects
the energizer from stock and rising water,
while preventing grass from shielding the
solar panel
Fully integrated, ready to use
• Simply mount on a suitable metal post and
connect it to your fence. Includes fence
lead, rechargeable lithium battery and
solar panel
Designed for the outdoors. Rain, hail
or shine
• Water resistant case, with built-in lightning
protection keeps stock contained in all
weather conditions