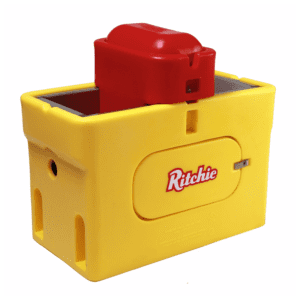 SKU: #16619
OmniFount blends technology from both our traditional stainless steel units and our insulated poly units to provide the premier livestock fountain. Designed with animal safety in mind, the Omni 2 features smooth rounded edges and a fully insulated casing for energy efficiency. The stainless steel trough features thermostatically controlled heat elements that are attached to the underside for frost free service even under the most severe winter conditions. The Omni 2's single trough has a fast refill valve providing fresh water for up to 40 head of cattle or horses.
 Herd Capacity: 
Horses: 40, Beef: 40, Dairy: 20
Easy to maintain and clean. Large access panel for easy access to heating components and waterline. Heating elements are located directly under the stainless trough for exceptional performance. Cable heater provides extra valve and supply line protection. Insulated with highly energy efficient polyurethane foam, providing an r-factor of 7 per inch. Water between 1-40 horses. OmniFount unit comes complete and ready to install your electric water lines. 4-5" x 3/8 stainless steel anchor bolts recommended to anchor to the concrete pad. 
10 Year Warranty