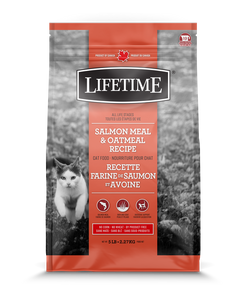 Salmon & Oatmeal
LIFETIME® Salmon & Oatmeal Recipe All Life Stages cat food provides all the nutrients required for your cat from kitten to adult, using quality ingredients balanced to encourage optimal urinary health with no corn, wheat, soy or by-products. 
Salmon meal and chicken meal protein - Canadian salmon meal and chicken meal provides a highly digestible, excellent source of quality protein suitable for cats who have problems with common proteins. 
Digestive support  - High quality fish protein, wholesome grains (oatmeal and barley), and prebiotics (mannanoligosaccharides sourced from yeast extract and fructooligosaccharides sourced from chicory root) help promote optimal digestion.
Skin and coat - Flaxseed, herring oil and chelated minerals (copper, iron, and zinc) support healthy skin condition and a glossy, soft coat.
Own certified facility – GFSI & USDA certified, located in St. Marys, Ontario, Canada.