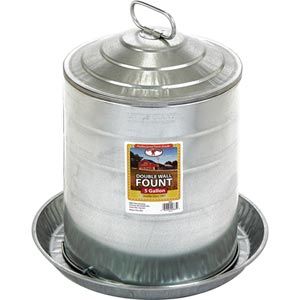 Double-wall construction features inner and outer tube. Inner tube includes strong arched handle for carrying filled fount.
When outer tube is inserted over inner tube, copper spring and neoprene seal create a vacuum, maintaining constant water level in drinking pan.
Built from heavy-gauge galvanized steel and features rolled edges for increased safety.
Seams are constructed and tested to prevent leaks.
Sloped top prevents roosting.