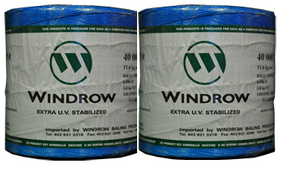 Specifications:

Length: 40000 '
Tensile Strength: 110 lb
Bales per skid: 80 (discount for whole skid - call store)
Big Round Bale 

Windrow Baler Twine
Windrow polypropylene baler twine is designed to meet the most demanding requirements of todays agricultural crop protection industry throughout North America.
Windrow baler twine is manufactured and designed to exact tolerances on the most technically advanced manufacturing systems available to the industry.
In addition to being produced from the finest quality synthetic polymers available, windrow baler twine is guaranteed to be one of the most consistently uniform twines on the market.
Superior twine uniformity throughout the entire spool assures the consumer of stronger more dependable knots and tighter bales which will produce a better quality hay even under the toughest baling conditions.
Windrow baler twine is specially treated with maximum levels of uv stabilizers to protect the product from breaking down.
Every spool of windrow polypropylene baler twine is individually shrink wrapped in a heavy gauge plastic foil which prevents the twine from unraveling or telescoping.