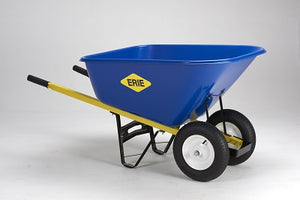 SE163 SERIES JUMBO WHEELBARROW
Large Capacity Design for Farm-Sized Jobs
Large capacity dual tire wheelbarrow is ideal for large volume, lightweight materials such as hay, wood chips or leaves. Features include – 10 cu ft heavy duty UV resistant polyethylene tray, 60″ steel handles, premium hardware and heavy gauge steel undercarriage and dual tire set up for improved balance and turning. For loads up to 250lbs. Backed by a 12 month limited warranty and ERIE's Exceptional Customer Service standard.
Features
10 cu ft Tray – Heavy duty and UV resistant polyethylene oversized tray with rolled tray lip provides large capacity for light to medium-duty loads
Dual Tire Set Up – Dual tires provided greater handling and weight balance over rough terrain
60″ Steel Handles – Heavy-gauge 1 ½" x 1 ½" steel handles provides greater lifting leverage and better load balance
Black Rubberized hand grips – Durable formed rubber cushion grips provide improved grip and comfort
Heavy Gauge Steel Undercarriage – Channel formed steel legs with stabilizers and cross brace provide lasting strength and rigidit
Steel Rim with Sealed Bearings – Premium sealed roller bearings on a 5/8″ axle provides lasting smooth maintenance free operation
Flat Free Tire – Premium polyurethane foam tire with all steel rim prevents punctures and downtime
Photo shows air tires. Actual Flat Free Tires are yellow.